Stand Up Paddle Boarding Adventure in Hawaii
Join Discover Hawaii Tours on one of the best stand up paddle boarding adventures in Hawaii in the pristine and clear waters of the Pacific, offering panoramic views of the surrounding areas. For those unaware, here is a brief history about the sport of stand-up paddle boarding
Stand-up paddle boarding is an emerging global sport that belongs to Hawaii s heritage. This sport has now spread from surf beaches to almost every other type of watercourses, such as large rivers, canals, and lakes. The surfer has to paddle longer distances and navigate through the standing waves and in one motion, ride and glide through them.
Stand-up paddle boarding first gained real recognition in 2005, and for those who want to learn paddle boarding, they can easily do so within the time frame of one hour, with proper instruction.
Stand-up paddle boarding requires very little equipment to get started. All you really need is a board and a shaft. A stand-up paddle board is shaped from glass-reinforced plastic, which is made of polyester or epoxy resin, and is compatible with polyurethane or expanded polystyrene foam used in the core. Paddle boards can be longer than nine feet, with padded decks or concave hulls attached to the deck.
There are typically one to three surfboard-style fins in the stem of the board, used for tracking. When you take a Discover Hawaii Tours Paddle Board Adventure, our guides will teach you how to use the paddle to propel yourself across the surface of the water while standing on the surfboard.
When you begin riding on a stand-up paddle board, you will learn how to stand on the board and how to hold the paddle at the same time, with one hand on the handle and the other hand approximately 1/3rd way down the shaft. Our guide will give you tips on where and how the placement of your hand can be adjusted according to the side you are paddling on.
When paddling, the blade is placed one or two feet away from the rider in the water. This motion in the water is continued until the blade is pulled through the water approximately six inches to a foot behind the rider.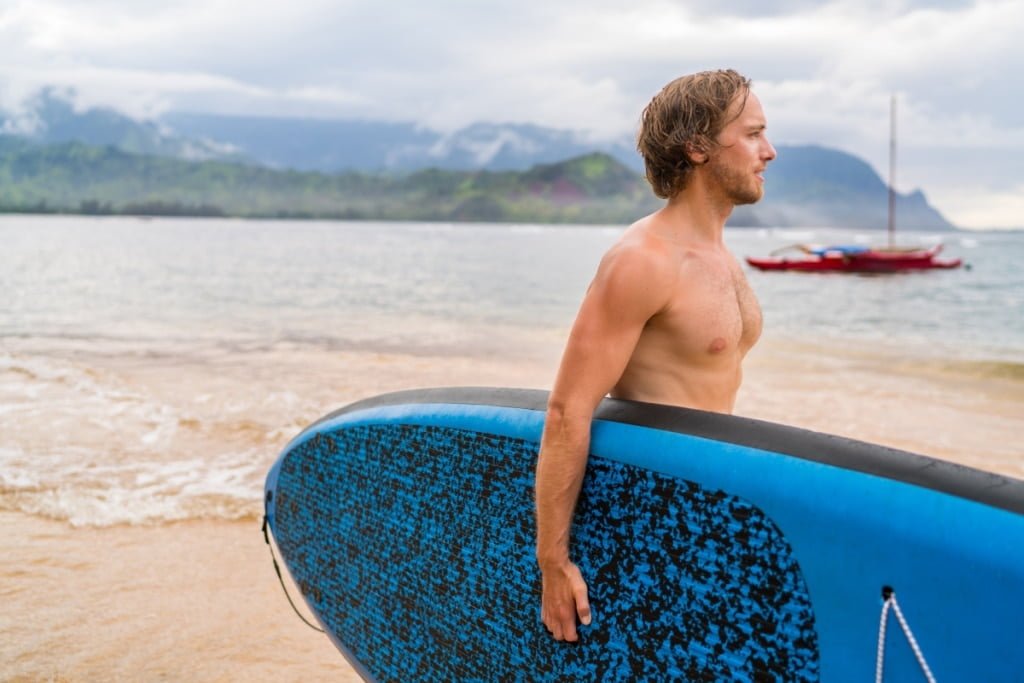 We at Discover Hawaii Tours offer you two options for tours of stand up paddle boarding in Oahu. This will be an adventure and a fun new challenge that you will enjoy. Our tours include the Stand-up Paddle with a Beginner's Lesson and Stand-up Paddling Self-guided Tour.
The former tour is located on the Windward Coast of Oahu. Both of these tours offer a two-hour lesson which will begin in Ka'elepulu stream, Hawaii s largest network of canals. Our expert guide will tell you the secrets of balancing on the board between your paddling strokes.
Post-lesson, our guide will take you to a gorgeous beach, such as Kailua Beach where you can practice. Kailua Beach is the destination for all sports activities in Oahu. The rider can look at the surrounding mountains and enjoy riding in the crystal-clear, blue waters. You will also have the opportunity to encounter the wildlife, such as wild turtles and tropical fish.
These tours also include lunch, transportation, and your stand-up paddle board kit. You cannot miss out on the opportunity for stand up paddle boarding Adventure in Hawaii. It is an experience guaranteed to challenge and delight.
Stand Up Paddle Boarding Adventure in Hawaii
Top Rated Inter Island Hawaii Tours and Adventures
Guide to Big Island Hawaii Volcano Eco Tours
Tips To Avoid Crowds in Hawaii Volcanoes National Park This Holiday Season