If you have spent any length of time on DiscoverHawaiiTours.com Hawaii scuba diving tours, you will see we have a tour for just about any island adventure or sightseeing experience one can imagine.
We offer Eco-Adventures and Volcano Tours as well as up-close and personal experiences with sharks. If these adventures are too dangerous for you, you can always have a city-level view and tour through Honolulu and Waikiki on a Segway.
But one of our most loved highlights and premiere experiences is our Hawaii Scuba Diving Tours.
Hawaii Scuba Diving Tours
Discover Hawaii Tours offer unparalleled adventures, including the chance to explore deep in the ocean off the Hawaii coast. Scuba experience is not required "you will get all of the training necessary to participate in one of our diving tours.
Our two primary scuba tours are the Hanauma Bay Scuba Dive Adventure (for non-certified divers), and the Oahu Scuba Eco-Adventure (for certified divers).
Each one provides the ability to see the underwater world of Hanauma Bay, its many reef formations, tropical fish, and marine inhabitants swimming to and fro. Certified divers will get to plunge a little deeper and enjoy a more advanced underwater adventure.
For our beginners, our underwater tour of Hanauma Bay is ideal because children over the age of 10 are welcome; all equipment is provided, and each will receive training from certified and expert diving instructors.
Like many of our tours, guests will receive roundtrip pick-up and drop-off from your Waikiki hotel. The package is custom for your group, as we allow no more than four divers per group so that you receive the best, hands-on learning experience and your guide s undivided attention.
This is scuba diving, not snorkeling, so be prepared to dive up to 30 feet under the ocean s surface to the Bay s underwater world.
The fish you will see underneath Hanauma Bay are going to dance around your memory all the way home. When you go under the warm waters of the Bay, you will be blown away by the colorful fish, crystal clear, glass-like waters, and the many other surprises popping out from the myriad of reef formations.
Other inhabitants you may see are the Hawaiian green sea turtle, octopus, eel, and much more. If you have never tried scuba diving before, do not miss this opportunity to experience the rich and hidden treasures of the ocean.
Our more experienced tourists, who are already certified divers, will be more interested in the Oahu Scuba Diving Adventure. This also includes round-trip pick-up and drop-off from your Waikiki Hotel, and you will also benefit from being part of a small group tour, with certified expert diving instructors.
One of the added benefits to this package is that you will explore up to 40 feet of the ocean s depths, rather than stopping at 30 feet. All of our diving instructors are certified ocean lifeguards, Emergency Medical Technicians (EMT), and US Coast Guard Licensed Boat Captains.
Our expert diving instructors will provide you with any additional knowledge you may need. Experience Hawaii as it should be, with Discover Hawaii Tours. Take a trip into the depths and see what you have been missing.
For divers who just like to do something a little different on vacation without draining your wallet, the Maui Diamond scuba diving adventure to Molokini is the perfect choice. Maui Diamond has been around for a long time.
As more visitors started coming to Maui, the charter boat took off as a top-notch dive boat that offered scuba diving on Maui with all the amenities of a snorkel charter of Molokini.
By only diving with small groups with multiple diving sites, the Maui Diamond offers a personalized and thorough Maui diving experience. Molokini is a fascinating dive location.
Diving on the outer reefs of Molokini provides more action than inside the steep walls that define Molokini Crater. The outside reefs are more colorful with many more species of marine life than anywhere else at Molokini on Maui.
With an incredible dive crew providing all the bells and whistles that make diving such an adventurous activity, you find all and more of what you are looking for with this Maui Diamond scuba tour. It's a great dive that you will enjoy and recommend to others.
Maui Dreams Dive Shops owns and operates the Maui Diamond. It was a big shift from a dive shop conducting beach dives into offering boat dives at Molokini. The transition proved to be easy for them.
There superior customer service and attention to detail created an outstanding adventure that is sold out daily. Advance reservations are required for the Maui Diamond. After your dive, you will understand why.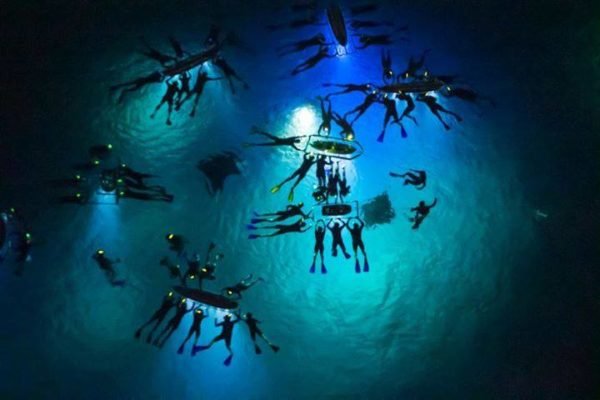 Diving with Manta Rays
One of the best experiences animal lovers will have in Hawaii is leaving their Big Island villas and visiting the manta rays in their natural environment. The largest of these species can reach up to 22 feet wide and weigh up to 3500 pounds.
These gentle giants glide gracefully through the water, eating plankton through their filters. Their curious nature makes them an ideal creature with which to interact.
The best time to go diving is during the night when the mantas are most active. You can book a tour with a provider in Hawaii, take a cruise out over the water at sunset and dive into a well-lit lagoon where the mantas frolic.
For those who want to see the mantas but (understandably) feel hesitant about getting in the water with them, check out our Manta Ray Night Snorkel here