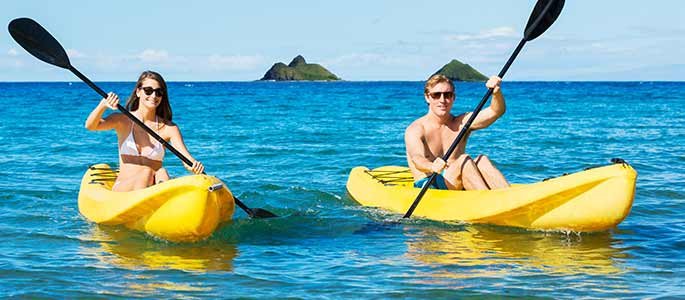 Hawaii Kayaking Adventure
If you are looking for something different and exciting to do during your trip to Hawaii, consider participating in one of our Hawaii Kayaking Adventure Discover Hawaii offers two different packages: the 4-Hour Guided Kayaking Excursion and the 2-Hour Guided Kayaking Excursion.
The difference in these two packages is primarily how long you wish to kayak for, and how much you are trying to see during your kayaking experience. Both take place offshore and give you the opportunity to experience Kauai's Na Pali coast.
Our tours include a professional tour guide, which is, first and foremost, very important to have an experienced and knowledgeable guide. You will also get a U.S. Coast Guard Approved PRD Type 3 and a comfortable professional kayak seat for your Hawaii Kayaking Adventure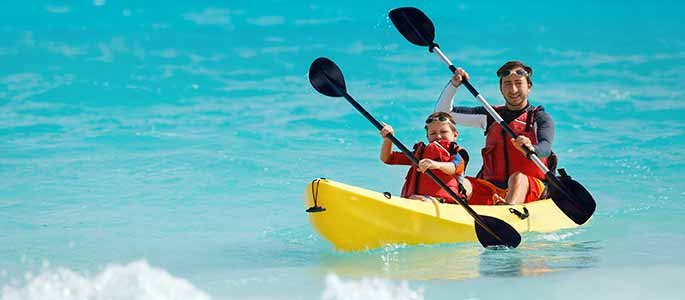 We offer single or double kayak options and give you the opportunity to kayak to two offshore islands. We are going to throw in a beach mat, boogie board, and Sea Sports silicon snorkel mask and equipment.
Once we paddle out in the breathtaking waters with your guide to explore Kailua, you will see the Moku'ula Islands and learn about these famous islands. It's almost certain you will have the opportunity to view marine life in its most natural habitat, including Hawaiian green sea turtles, tropical fish, and the endangered Hawaiian monk seal.
As you travel in the kayak, you never know what you are going to see or what kind of sea life will approach to say ˜hi. Before heading back, we will take a break to enjoy a nice lunch to replenish your energy and restore you for the return trip.
The two-hour kayaking trip takes place off the west coast of Oahu and also includes relaxing beach time. This is a trip that is available for all skill levels, from beginners to the more advanced.
You will paddle out from Kailua beach and shoot past the islets offshore, enabling a different perspective on the island of Oahu. You will even get to experience the tide pools of Flat Island and your guide will point out the many tropical birds that nest here as you pass by.
On this tour also will you get the opportunity to see the amazing aquatic sea life that darts out from time to time, including the Hawaiian green sea turtle and the many tropical fish.
When you get the time to settle down and enjoy the beach, you can use your boogie board or snorkel to go out and explore the underwater life through the clear waters.
Lunch is also included on the two-hour kayak adventure, as well as an offered discount on retail items at the shop. Put all of your belongings in a dry bag and get ready to set off on a memorable adventure with Discover Hawaii Kayak adventures. Call us today to plan your trip and get ready for the time of your life!
Discover Hawaii Kayaking Adventure