Top 10 Beaches in Hawaii You Must Visit
Top 10 Beaches in Hawaii You Must Visit One of the many reasons Hawaii is the favorite destination of tourists is its stunning beaches. Hawaii has a relaxed vibe and pleasant weather but the exclusive feature of this island is its variety of beaches. Hawaii has beaches for everyone including secluded beaches for honeymooning couples, big touristy beaches, picturesque coves, beaches with big waves, and even beaches with green sand.
Plan Hawaii tours and you can spend every day on a different beach and Check out the list of top 10 beaches in Hawaii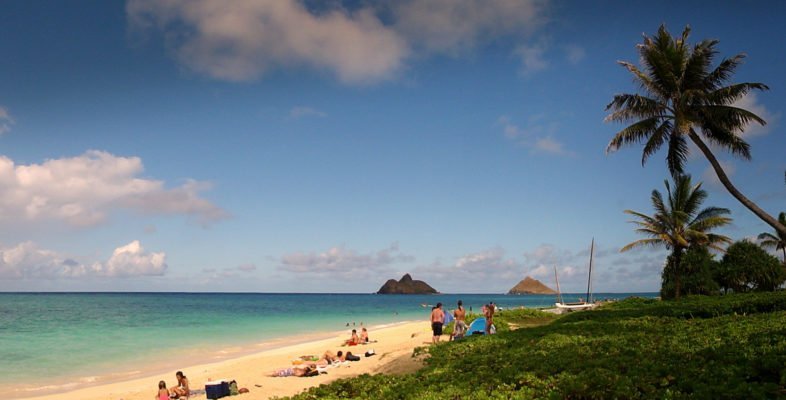 1. Lanikai Beach Oahu
It is located in Oahu and is known for its golden sands, calm waters, and palm trees hence translate to "Heavenly Sea". A large number of both tourists and locals keep visiting this beach. It is surrounded by deluxe villas easily accessible to visitors. The state law demands direct beach access every 350 meters. One of the most photogenic beaches in the state, it's a great place to have your Oahu Family Portrait taken. A must see on our list of Top 10 Beaches in Hawaii You Must Visit
2. Polihua Beach, Lanai
It is the longest beach on Lanai. You can reach Polihua Beach by a four-wheel-drive vehicle from Lanai City. It stretches two miles along Lanai's northeastern shore. Polihua Beach is a secluded site on the island of Lanai. In addition to relaxation, this beach offers privacy which is why there are no beach bars with lounge chairs here. Swimming is not allowed at this beach because currents are strong with no protective offshore reefs. However, you can go for long walks and enjoy beautiful scenes of Molokai
3. Kaanapali Beach Maui
Between the Hyatt Regency Maui and Sheraton Maui lies a 3 miles Kaanapali Beach It was once a playground for members of the Maui royalty. Right now this beach is one of the most visited spots on the island of Maui People-watching is one of the most famous activities at Kaanapali Beach There are lots of high-end resorts and luxurious condos in the area. Of the best beaches on Maui this little piece of paradise is right up there with the best
4. Makena Beach Maui
If you want to evade the eventful and active Kaanapali and Lahaina beaches, you can spend time in Makena Beach. This golden sand beach is over 100 feet wide and 1.5 miles long and is surrounded by lava rocks. It presents a wonderful sunset view and is known for skim-boarding and body surfing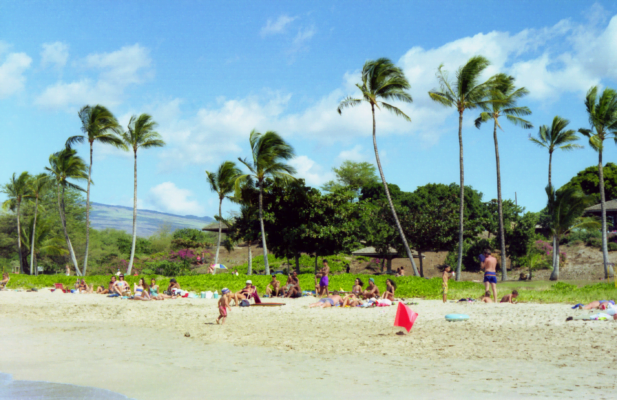 5. Hapuna Beach Big Island
Hapuna Beach is considered one of the best beaches in the world. It is the longest beach in Hawaii with crystal clear waters you can swim in. You can also snorkel during the summer season and relax in the sun under the shade of palm trees
6. Hanalei Bay, Kauai
This largest bay stretching for about 2 miles in Kauai appeals to all kinds of people. Hanalei Bay is shaped like a heart and is covered by mighty mountains. It is one of the most attractive sites on the island and offers lots of water activities including paddle boarding, swimming, and kayaking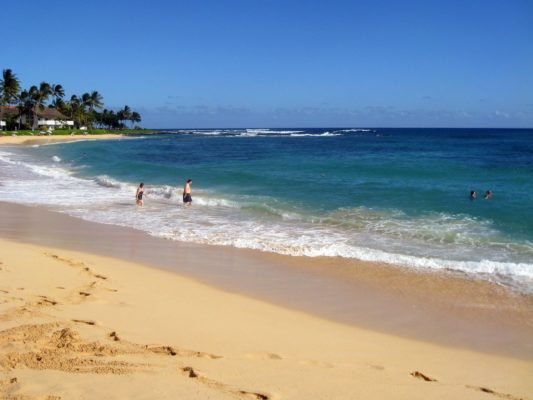 7. Poipu Beach Kauai
This beach is best for snorkeling and swimming. Its shoreline has a natural swimming pool that was created by lava rocks. However, the pool is not that deep which allows you to just even take a dip. You can enjoy swimming without any worry as lifeguards are on duty seven days a week.
8. Halona Beach Cove, Oahu
You have to climb down some super-steep rocks to get access to Halona Beach Cove. It is located on the west side of the Halona Blowhole overlook. This pocket-sized sandy beach is one of the most picturesque spots in all of Hawaii. Plan excursions in Oahu and the experience will be absolutely worth the trip. There are no lifeguards and currents are also dangerous, so do not swim too far
9. Kauapea Beach Kauai
It is located on the north shore of Kauai. Kauapea Beach is also known as the Secret Beach. There is no public road leading to this region which means you have to put some effort to find it. You will have to go for a 15-minute hike from one of the main roads. Kauapea Beach is one of a kind beach in Kauai as it features both black lava rock and white sand
10. Wailea Beach Maui
Luxurious resorts and mansions surround Wailea Beach. Black lava points protect it on both sides and are lined up with tall palm trees. You can view the neighboring islands of Kahoolawe and Lanai from this beach. You can enjoy snorkeling and swimming always and go whale watching in the summer season. Several great luaus on Maui are offered in this area that is full of high end luxury real estate.
Plan a tour with discoverhawaiitours.com and enjoy a visit to the Top 10 Beaches in Hawaii with incredible tours and fun activities
Top 10 Beaches in Hawaii You Must Visit