Top Budget Friendly Volcano Tours Hawaii
Volcanoes are among the most iconic landscapes in Hawaii. Check out our list of must see Budget Friendly Volcano Tours Hawaii Visitors can come close to an active volcano in few places in the world and one such place is Hawaii Volcanoes National Park located on the island of Hawaii. "Shield" volcanoes are Hawaii's main volcanoes. Lava from these volcanoes forms shield-like mountains. Mauna Loa is one such mountain. It is the most massive mountain on earth and it seems as if it is covering half of Hawaii Island Book top volcano tours in Hawaii now!
Kilauea, Mauna Loa, Hualalai, and Mauna Kea are Hawaii's active volcanoes They erupted last in 1984 Kilauea has been constantly active since 1983. Loihi is another volcano that has been erupting since 1996. At some point, this seamount might break the surface, forming a new island to the Hawaiian chain. Leahi (Diamond Head), Oahu and Haleakala, Maui are some of the other notable volcanoes.
Exploring the Big Island's active and inactive volcanoes is a truly unforgettable experience. Below are some of the top Hawaii volcano tours that take you to major sights in Hawaii. You can explore the world's most active volcano – Kilauea, visit its neighbor – Mauna Loa, and its inactive counterpart – Mauna Kea.
Volcano Unveiled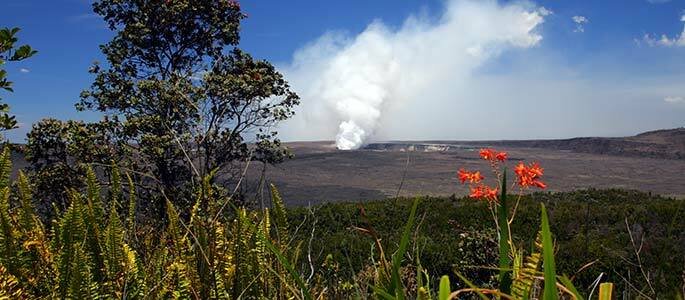 The Big Island is the youngest island in Hawaii. It has blue water which edges against onyx rocks. The Big Island is rightly nicknamed so because it is 4,028 square miles and it is constantly expanding. It has a diverse landscape and is bigger than all of the other Hawaiian Islands combined.
Visiting the island is a must on your visit to the Aloha State. Fly-Away to Big Island – Hawaii Volcano Eco-Adventure Tour takes you from Oahu to the Big Island to see the world's most active volcano – Mt. Kilauea.
Taking a pleasing drive on the famed Saddle Road to Hawaii Volcanoes National Park. You can go hiking there and have a close look at Kilauea. Our knowledgeable guides will keep narrating interesting information on Hawaii's geology, culture, and history.
Helicopter Tour
Experience Hawaii's only active volcano like never before! View Mt. Kilauea from a helicopter & visit Volcanoes National Park with our expert tour guide.
Witness the lava as it flows from the Kilauea Volcano. Marvel at the sight of the snow-covered peaks of Mauna Kea and Mauna Loa, and explore the rainforests of the North Shore on Hawaii Volcano Eco-Adventure & Helicopter Tour from Oahu. Visit Mt. Kilauea from a helicopter. After the helicopter ride, you can visit Volcanoes National Park with our knowledgeable tour guide.
Discover Volcano Country
Budget Friendly Volcano Tours Hawaii
Visit old lava fields, amazing craters, famous destinations, and huge coffee farms of the Big Island. Big Island Hawaii Volcano Eco-Adventure covers a journey to the youngest Hawaiian Island. Our interpretative guides have a thorough understanding of the geology, history, and people of Hawaii. The journey consists of a range of memorable stops. Take an awe-inspiring tour through amazing landscapes and Volcanoes National Park on the Big Island of Hawaii.
Volcanic Eco-Adventure
Be ready to be amazed by the changing colors and scenery of Hawaii Volcano National Park. Explore the dense rainforest and lush valleys through which streams flow and waterfalls cascade to present a stunning sight. In addition to picturesque botanical gardens, a black sand beach, there is also a mighty presence of the most active volcano in the world, the Kilauea Caldera. One Day Hawaii Volcano Eco-Adventure from Kauai combines the spectacular excursion for the visitors to explore the town of Hilo and sites like Rainbow Falls, Volcanoes National Park.
Epic Island Journey
Get a chance to see the Big Island's most gorgeous sights in Hawaii Volcano Eco-Adventure & Helicopter Tour from Maui. The diverse landscape of Hawaii allows you to explore black sand beaches, Rainbow Falls, historic Banyan Drive and the natural formations of Hawaii volcanoes.
You can take a stroll across Punalu'u Beach to see Hawaiian Green Sea Turtles, a flower farm, and take an aerial tour of Hawaii Volcanoes National Park and Kilauea volcano A guided ground tour of the volcano will be provided to the visitors.
Budget Friendly Volcano Tours Hawaii