Inter Island One Day Hawaii Volcano tour from Kauai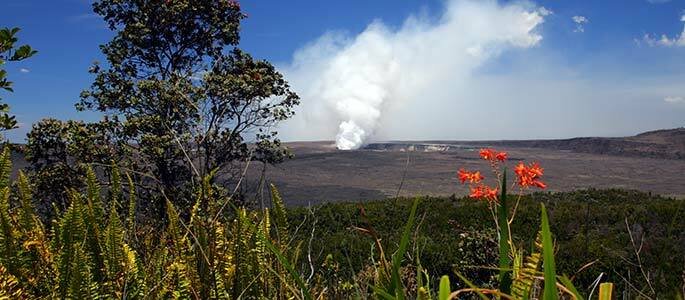 About Your Inter Island One Day Hawaii Volcano tour from Kauai
THE EXPERIENCE
Take a journey to the youngest Hawaiian Island and witness firsthand the amazing power of Hawaii's fiery goddess of fire, Madame Pele. Learn the ancient legends about just how these magnificent islands formed as well as see for your self the amazing landscapes and wonder of the Volcanoes National Park on the Big Island of Hawaii.
This exciting tour visits the world's most active volcano, Kilauea volcano, and spends the day at Hawaii Volcanoes National Park. Take in the diverse scenery of the island of Hawaii, where you'll discover black sand beaches and the natural formations of Hawaii volcanoes.
Experience the famous Kona Coffee belt, travel to Kilauea volcano and explore the natural wonders of Hawaii Volcanoes National Park with our expert tour guides. Fill your Hawaiian vacation with excitement and educational fun while exploring the only active volcano in Hawaii!
Your Inter Island One Day Hawaii Volcano tour from Kauai explores the natural features of Kilauea volcano, created over the past 30 years of eruption. Walk through the volcanic landscapes of the Big Island should not be missed.
EXPERIENCE KILAUEA VOLCANO
Hawai'i Volcanoes National Park
Volcano visitors center
Pristine native rainforests
Kilauea Iki lookout
Active steam vents
Thurston Lava Tube
Halema'uma'u Crater & Kilauea Caldera
Walk through extinct lava fields
Hawaii Volcanoes National Park
Discover one of Hawaii's last active volcanoes on the sloped of Mauna Loa, on the southern half of Hawaii island. Kilauea Crater is located in the heart of Hawaii Volcanoes National Park and is the most active volcano in the world, erupting continuously since 1983! This incredible tour will get you so close to the volcano you will be able to see the earth smolder and the Volcanic Steam Vents in action
Learn about the different types of lava and see the many stages of re-growth as you pass lava flows from the 1800's through present time. Learn the scientific reasons why the Hawaiian chain of islands continues to grow to this day with over 500 acres of new land added since the latest eruption began 30 years ago.
Your expert guide will pick you up from your hotel or the airport on the Big Island and take you on a phenomenal tour of discovery. Hawaii Island, or the Big Island, is larger than all of the other Hawaiian Islands combined, you will have plenty to see and do on this fantastic tour.
You will walk across black sand beaches, see the incredible Kilauea Iki Crater, see and smell the volcanic steam vents spewing sulphur, walk through an underground lava tube, and more all located within the world famous Hawaii Volcanoes National Park  Witness the sites of the Kilauea cauldron's creation, including the Halema'uma'u Crater Overlook, Kilauea Iki Overlook, Thurston Lava Tube, and so much more.
Discover the devastation of nearly 30 years of volcanic eruptions and the see timeline of the volcano's history at the National Park Visitor Center. There is nowhere else on Earth where you will see an active volcano this up-close and personal. An opportunity like this should not be missed. Book your Inter Island One Day Hawaii Volcano tour from Kauai today, your vacation deserves it.
Location: Hawai'i Volcanoes National Park
Difficulty Level: Easy
Conditions
Volcanic fumes (VOG) may be hazardous to your health
Walking over rough, uneven surfaces may sometimes required
See the most current Kilauea volcano updates at the USGS here
ENJOY THE FAMOUS KONA COFFEE BELT AND BLACK SAND BEACH
Local Tropical fruit stand
Punalu'u Sweet Bread Bakery
Lunch at Punalu'u Black Sand Beach
What you'll do
Drive through the famous Kona Coffee belt, along the slopes of Hualalai volcano and Mauna Loa volcano. We will take you up to see the famous Punalu'u sweet bread bakery near the southern most part of the Big Island, sample local produce, and  go for a walk on Punalu'u Black Sand Beach where you'll probably see the native Hawaiian green sea turtles.
Location: Kona, Hawai'i
Difficulty Level: Easy
Conditions
WHAT TO BRING
Comfortable Clothes & Footwear, Camera, a Light Jacket, Sunscreen
MEAL OPTIONS
Fresh salad, turkey, ham, tuna, or seafood sandwiches at the southern most bakery Punalu'u.
Water, soda, juice and snacks are available during the tour.
OUR TOUR GUIDES: HAWAII'S AMBASSADORS OF ALOHA
Our unrivaled customer service comes from our hand selected professional tour guides. Each Ambassador of Aloha must demonstrate three core qualities:
Expertise of Hawaiian history
Friendly, Professional Attitude
Embodiment of the Aloha spirit
At Discover Hawaii Tours, our expert local guides are the key to an enjoyable experience. Chosen for their friendly "Aloha" spirit, each guide has an amazing grasp of all things Hawaiian–from Language to Island Trivia only a "local" would know. Discover Hawaii Tour's guides are eager to bring the spirit of the islands to your vacation through story telling and captivating tales.
Of course, safe driving is a hallmark of Discover Hawaii Tours and our Drivers are carefully chosen and trained in professionalism, courtesy, knowledge and discretion. They receive ongoing training to maintain our highly strict standards.
OUR FLEET
Discover Hawaii Tours adheres to the highest standards of vehicle quality and maintenance with exceptional service, featuring an immaculately clean fleet of luxurious and well-equipped vehicles. Reclining seats and powerful air-conditioning provide maximum comfort on all tours.
WITH US, YOU WILL DISCOVER IT ALL!
Tour Video
Book our One Day Hawaii Volcano tour from Kauai today!
or check out one of our other Hawaii tours below
private hawaii volcano park tour
Check out out partner site for Maui Activities here