Many visitors to the famous Haleakala National Park on Maui seek out its most popular event, the sunrise. Every morning the "House of the Sun", the meaning of the word Haleakala, is blessed with an awe-inspiring sunrise event that is truly a one of a kind experience. However, this National Park has a few misconceptions that often get overlooked.
Haleakala Is Only For Sunrises
Misconception #1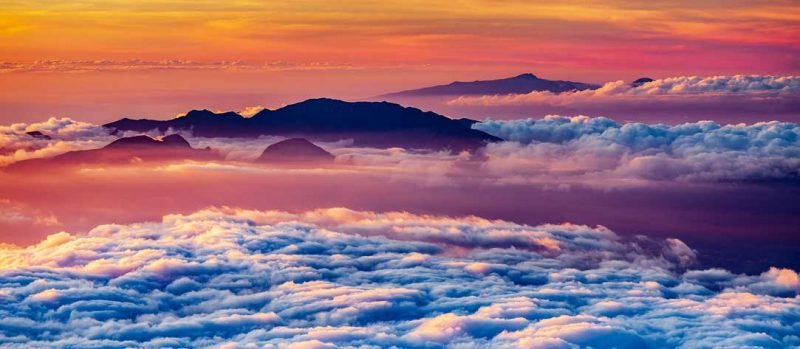 If you are deadset on seeing a sunrise, you should absolutely plan ahead, make your reservation, and get the warm clothes ready. But, there is so much more to see in Haleakalā National Park than just the sunrise. At any time of day, you can view the incredible landscape of Haleakalā National Park. Throughout the day, as the sun moves across the sky, it lights up Haleakalā crater. The shadows and sunlight beyond just the morning light can create some picturesque and breathtaking views of the incredible geologic features in Haleakalā crater.
When visiting Haleakalā National Park, make sure to make stops at Leleiwi Overlook and Kalahaku Overlook for those incredible views of Haleakalā Crater. If you are visiting the overlooks during the day, you will find moments where you can have the whole view to yourself– a pretty incredible experience of solitude and wonder. For the more adventurous looking to hike in Haleakalā Crater, hit the trails to reveal all sorts of incredible views. We recommend Keonehe'ehe'e (Sliding Sands Trail) at the Summit or Halemau'u Trailhead, just keep in mind however long it takes you to hike down, it will take twice as long to hike back out due to the steep elevation gain.
Stop by one of the visitor centers for a trail map and to ask the rangers the best places to go for the best views of Haleakalā crater. Other great things about being in Haleakalā during the day is in the afternoon, the clouds start to creep up the mountain so you can even find yourself completely surrounded by clouds and then suddenly as you make your way to the summit– above them. The Summit District of Haleakalā National Park begins at 7,000 feet and rises up to 10,023 feet, at any time of day it is quite the sight to see!
How To Enjoy the Sunrise
To make a Haleakalā sunrise reservation yourself, visit

https://www.recreation.gov/ticket/facility/253731

It only costs $1.00 for your whole vehicle, but they go fast! Note that a reservation is required for each vehicle entering the park from 3:00 am to 7:00 am. Reservations can be booked up to

two months

in advance. If you missed out ahead of time, another batch of tickets will be available to reserve

two days

before arrival, at 7:00 am HST (Hawaii Standard Time)

Reservation Tip!

Login to your account or create a new account before Haleakalā National Park Summit Sunrise tickets go on sale. You can only add a ticket to your cart and proceed with your reservation if you are logged into your account and last-minute Haleakalā Sunrise Tickets are gone in a second.

Book a Haleakalā sunrise tour and get the full experience! A sunrise reservation tour is a great way to view the sunrise at Haleakalā National Park and get the full experience of the sites it has to offer. Make it easy by Leaving it to a professional to guide you to the best viewpoints and navigate you safely to the summit of Haleakalā. Along the way, you will be able to learn about Hawaiian culture, the geology of Haleakalā, and get to take in the views as your drive up and back down the mountain. Other great perks of reserving a Haleakalā Sunrise tour can include— warm comfy jackets or blankets, hot beverages (hello Kona Coffee), your own driver who is a professional at navigating the winding road to the Haleakalā Summit, a comfy new ride that you can relax in all the way up to the summit of Haleakalā Crater, a continental breakfast, and roundtrip transportation from Maui hotels. With several options to choose from, like

Polynesian Adventure Tours

.

For those who want even more adventure, consider booking a sunrise and bike tour with

Haleakalā Bike Tour Company

. Not only will you witness a colorful sunrise, but you will then get to experience biking the volcano downhill on a bicycle. It's a thrilling way to explore Haleakalā!
Haleakala Is Hot Because Maui is Hot
Misconception #2
Rising up to 10,023 feet above sea level, you could argue that Haleakalā truly has a weather pattern all its own. Although the thermostat might be the 80s-90s at the beach, at Haleakalā's summit the temperature average 35-45 degrees and at times it can even snow (yes, real snow on Maui.). If you show up to the Haleakalā National Park in your board shorts and flips flops– you will not last long, especially at the summit where the views of Haleakalā Crater are available. Make sure to plan ahead for the weather at Haleakalā by bringing multiple layers of clothing you can peel off throughout the day.
We're talking about bringing long sleeves, synthetic or non-cotton moisture-wicking layers, rain jackets, winter jackets, pants, shoes, socks, — stuff you thought you wouldn't need on Maui but we can assure you Haleakalā's weather can be quite cold at the high elevations in the park. You'll be grateful that you planned for hot and cold temperatures.

Haleakalā's name means "House of the Rising Sun"
Misconception #3
Although it is a small difference, Haleakalā's name in Hawaiian actually means "House of the Sun." The story behind Haleakalā begins with Hina, the mother of the demigod Maui. Hina needed more sunlight to dry kapa (cloth) and the people needed more sunlight to grow their food and do all the things they needed to do in the daylight. However, the days were short as the sun would race quickly across the sky. On top of the mountain, the demigod Maui waited until the sun rose and lassoed it! The sun begged Maui to free it and Maui did so only under the condition that the sun would slow its passage across the sky making the days longer.
Haleakala Crater is a Volcanic Crater
Misconception #4
Haleakalā crater is no crater at all– and yes, you read that right. Haleakalā crater is actually an erosional valley carved out by the wind, water, and landslides. This, of course, took a long time to form but interesting enough, these erosional forces are still at work shaping and widening the crater every day! Haleakalā National Park is famous for its geology with volcanic rock presenting itself in rich reds, yellows, greens, and shades of gray. The geology of Haleakalā crater is quite impressive with views of cinder cones, ridgelines, cliffs, and an overall Mars-like landscape.
Haleakalā Crater stretches across at 7 miles long, 2 miles wide, and 2,600 feet deep. As it stands, the summit of Haleakalā rises up to 10,023 feet but many geologists believe it had once reached 15,000 feet above sea level. Over the years, erosion has weathered the mountain away and the sheer weight of the volcano itself is believed to be so heavy it has also begun to sink into the crust of the Earth. Another interesting thing to note about Haleakala is that only about 5% of the volcano is above sea level… the rest of Haleakalā is below sea level! Despite its elevation loss and sinking, Haleakalā volcano rises 28,000 feet from the seafloor, making it the third-tallest mountain on Earth. Haleakalā National Park is quite the geologic site to see and it will not disappoint!
Haleakala Volcano is Extinct
Misconception #5
This is false, Haleakalā is not extinct it is actually classified as dormant meaning it could erupt again! The last eruption of Haleakalā occurred 400-600 years ago on the southwest flank of Haleakalā near present-day La Perouse. Even more impressive is that in the past 1,000 years, Haleakalā has erupted at least 10 times! So what would an eruption look like at Haleakalā? Probably not as explosive as you would think. All Hawaiian volcanoes are classified as "shield volcanoes." Shield volcanoes, like Haleakalā, from where there are hotspots in the earth's crust. The lava of shield volcanoes is generally thin and flows easily, it spills out to form a shield shape from the gradual buildup of many thin layers of lava erupting from the hot spot. Hawaii Volcanoes National Park is the best place to visit to see what a recently active volcano looks like.
The shape of the volcano forms a long, broad, and gently curved mountain like the shape of a warrior's shield. About 40% of all the volcanoes on Earth are classified as shield volcanoes. This is probably different than the cone-shaped volcanoes you maybe use to thinking of, cone-shaped volcanoes are known as composite volcanoes, think Vesuvius or Mount St. Helens. Composite volcanoes typically form where the earth's plates come together. The lava of composite volcanoes is thicker and doesn't flow easily so these volcanoes tend to explode a mix ( or "composite") of lava, rock, and ash. There's a reason Maui Real Estate is so inexpensive in Kaupo!
Although volcanic activity at Haleakala National Park has appeared to cool off, for now, Haleakalā is still considered dormant and could potentially erupt again. But don't let the possibility of an eruption stop you from visiting this incredible National Park, an eruption is not predicted to happen anytime soon and there is so much to see it is well worth visiting during your time on Maui!