Bike and Hike Full Day Tour in Hawaii
Plan your trip with Discover Hawaii Tours and enjoy your time with our many adventurous tours. Check out the Bike and Hike Full Day Tour in Hawaii Places like Oahu have more to offer than just amazing resorts with state-of-the-art deco and pristine beaches.
There are a lot of activities that one can explore rather than simply swimming in front of one's hotel. Oahu is famous for water sports, as well as other activities, like snorkeling, hiking, and cycling. Imagine cycling and hiking in Hawaii on lush mountains while interacting with wildlife species and vegetation only found here. Sounds idyllic, doesn't it?
Discover Hawaii Tours offers a thrilling and adventurous outdoor experience when you join us on one of our many bike and hike tours. Our bike and hike tours in Hawaii include an expedition to the rainforests of Oahu, where our knowledgeable naturalist guide, who is also a certified expert, will educate you about the many different flora and fauna, lizards, and other animals. You'll also get to visit the beautiful hidden waterfall in Manoa Valley, which is considered to be the tallest waterfall in Oahu.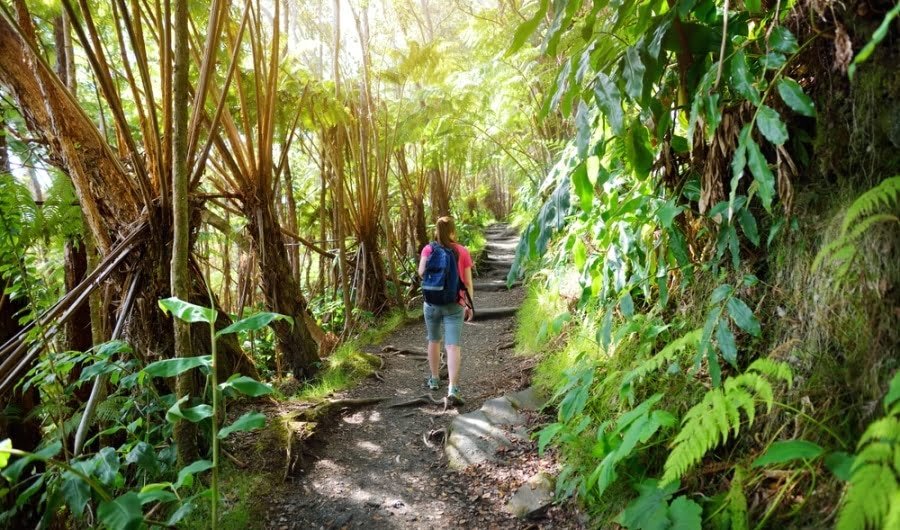 Bike and Hike Full Day Tour in Hawaii
The adventure continues when we visit the extinct volcano of Oahu. Your guide will tell you about the history of the volcano, as well as the folktales past peoples believed about this sacred site. Adventurers also get to have an exciting bike ride through the hills of Honolulu.
During your bike and hike expedition, you will be amazed by the astounding panoramic views of Downtown Honolulu, Waikiki Beach, and the pristine waters of the Pacific Ocean. Our Downhill Bike and Volcano Rainforest Hike, Downhill Bike and Waterfall Hike, and Full Day: Bike and Hike, Snorkel and Sail Adventure all offer such amazing adventures and scenery.
When you take the Downhill Bike and Waterfall Hike tour, we will bring you to Manoa Falls, traversing through bamboo forests and remnants of ancient Hawaiian farms. Riding with an expert tour guide, who shares invaluable insight into the natural habitat and ecosystem around you, greatly enhances the experience.
The Full Day Bike and Hike Snorkel and Sail Adventure offers all of the above, but with so much more! On this tour, you will not only get to bike and hike but also go snorkeling and sailing. While snorkeling, you will have the chance to swim with the colorful tropical fish and wild green sea turtles in the crystal clear blue water of the Pacific.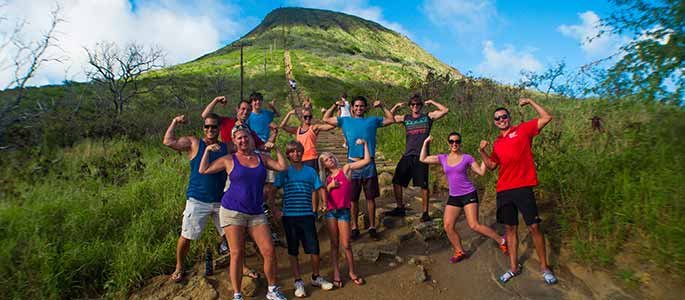 We have other hiking tours in Hawaii as well, such as Koko Head Crater Sunrise Hike, and the Chinaman's Hat Experience: Hike, Kayak, and Snorkel. The former tour is the only tour in Oahu that is located on the South Shore. This is the only tour that provides the opportunity to have dazzling views of Hanauma Bay, Hawaii Kai, and the South Shore.
On this tour, hikers get to the top of the Koko Head Crater, where a stunning view of the sunrise over the Pacific awaits. The Chinaman's Hat Experience: Hike, Kayak and Snorkel Tour is an exciting experience along Oahu s windward coast. The hike starts at Kualoa Ranch, which is considered to be a historical site of the Chinaman's Hat Island. The island itself looks like a hat worn by early Chinese immigrants.
The tour guide will give you information about the natural habitat, and one also gets the opportunity to snorkel. The locations of both of these tours have been featured in movies and television series. Join us on our bike and hike tours and have a thrilling experience!
Bike and Hike Full Day Tour in Hawaii