3 Islands Hawaiian Vacation Package Oahu Maui and Big Island
About Your Tour
Discover true paradise during an unforgettable journey through some of the most beautiful islands in the Pacific. Begin your ultimate Hawaiian vacation by spending 4 magical days on the island of Oahu where you'll experience everything from visiting Pearl Harbor to enjoying an enchanting evening under the stars at the island's hottest Lu'au.
Then, head over to the beautiful island of Maui where you'll experience old Hawaii along the famous Road to Hana Tour. Finally, end your adventure on the Big Island of Hawaii getting a chance to see the world's most active volcano, pristine black sand beaches, and breathtaking scenic views.
There's so much to enjoy while in Hawaii, so let us show you our island paradise
*Based on availability, additional charge may apply based on season at the sole discretion of the hotel partners.
PACKAGE INCLUDES
Hotel
Inter-Island Airfare
Tours & Activities
Admissions
MEAL OPTIONS
Add breakfast, lunch and dinner
SUGGESTED ITINERARY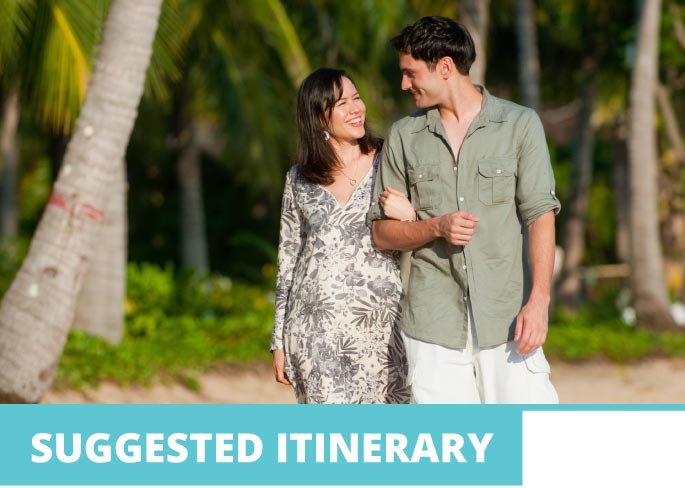 *Although this package includes a wide range of activities designed to provide you with the best in Hawaii, we are also able to customize an itinerary to your taste.
Day 1 | Welcome to Oahu Hawaii  E Komo Mai
Airport – Hotel Transfer. Lei greeting.
Day 2 | Relax
Day off to relax and get on vacation mode.
Day 3 | Pearl Harbor & Circle Island Tour
To make the most of the time spent in Oahu combine the top destinations and attractions into a fun-filled day of sightseeing, history; ever-changing landscapes and the very best Oahu has to offer.
Day 4 | Spectacular Luau
Day off – At night: Luau: Experience the beautiful culture of Hawai'i as we present a night of music, hula, and fire dancing.
Day 5 | Welcome to Maui, Hawaii – E Komo Mai
Fly to Maui, Hawaii in the morning
Day 6 | The Road to Hana
The Road to Hana features miles of lush tropical rainforest, beautiful waterfalls at every turn, narrow one-lane bridges and most importantly our colorful and enduring cultural traditions kept by our elders.
Day 7 | Relax
Day off to relax and get on vacation mode.
Day 8 | Welcome to Big Island, Hawaii – E Komo Mai
Fly to Big Island, Hawaii in the morning
Day 9 | Volcano Adventure
This exiting tour visits the world's most active volcano, Kilauea volcano and spends the day at Hawaii Volcano National Park. Take in the diverse scenery of the island of Hawaii, discover black sand beaches, Rainbow Falls, historic Banyan Drive and the natural formations of Hawaii Volcanoes.
Day 10 | Farewell
Day off to enjoy and say goodbye to our beautiful islands
Airport Transfer