Best Guide to Pearl Harbor Tours from Waikiki
Waikiki sits on the beachfront of Honolulu and is famous for its white, sandy beach. Honolulu, the southern shore city on the island of Oahu, forms part of the American state of Hawaii. For those looking to explore the details of the infamous Pearl Harbor story, also on Oahu island, Discover Hawaii offers a variety of different Pearl Harbor tours from Waikiki
The friendly team at Discover Hawaii Tours offers a range of comprehensive tours around Hawaii. Always focused on friendly efficiency and providing outstanding service, Discover Hawaii endeavors to uncover the exhilarating adventures to be found amongst the natural beauty of the Hawaiian archipelago. Estimated to have approximately 137 islands, Hawaii never runs dry of interesting adventures, just waiting to be discovered.
Pearl Harbor Tours from Waikiki
On December 7, 1941, during World War II, the Imperial Japanese Navy launched a vicious attack on the Pearl Harbor U.S. Naval Base on Oahu Island. Taken by surprise and unable to effectively defend themselves, the base and surrounding areas were completely annihilated. It was a devastating result for Hawaii and dark time for the United States of America; a tragic and bloody event in world history.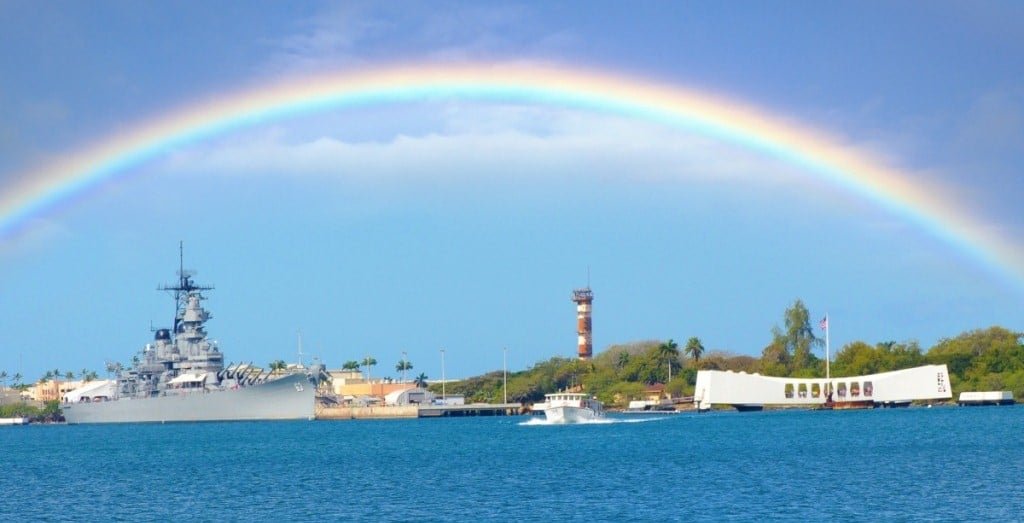 Choose a Tour
As Pearl Harbor is located just west of Honolulu, there are so many exciting Pearl Harbor Tours that we offer. The memorials, museums, shipwrecks and visitor centers ensure complete knowledge of those fateful events and a new appreciation for the story of Pearl Harbor.
The Complete Pearl Harbor Experience Tour goes the whole nine yards and gives a full overview of all things "Pearl Harbor." It includes a convenient Waikiki pickup, fascinating museums and information centers, USS submarines and battleships, enlightening museums and even a sighting of the statue of King Kamehameha the Great. It's the perfect choice for those seeking deeper insight and accurate facts about the surprise attack on Pearl Harbor, all those years ago.
We also offer a combination package that includes the fascinating Pearl Harbor experience together with a unique combination of other activities. These other activities include a variety of natural attractions, authentic cultural experiences, and historic city tours.
Enjoy the exciting Pearl Harbor and Polynesian Cultural Center with Luau and Show tour with a combination Pearl Harbor tour and Hawaiian cultural experience. Guests are also treated to a traditional Hawaiian luau as part of this fantastic cultural experience.
Pearl Harbor Tours from Waikiki and natural attractions combination tours provide a gateway to Oahu's natural attractions alongside the historic events of Pearl Harbor. The beaches, spectacular ocean views and Dole Plantation are just a few of the attractions included in the combination Pearl Harbor tours. The Oahu Circle Island Tour with Pearl Harbor covers the excitement of Pearl Harbor and a complete sightseeing trip that circles the entire island of Oahu. Guests can also choose between other tours that showcase Pearl Harbor and a combination of either the North or the South Shore of Oahu.
The city and Pearl Harbor Tours from Waikiki combination tours include a choice of a trip around Honolulu and other historic sites in the city. Enjoy one of our Pearl Harbor Tours from Waikiki and see the amazing Pearl Harbor together with a historic tour of downtown Honolulu, the Iolani Palace, and the Kawaiaha o Church.
The Hawaiian Legacy
Hawaii finds a place in the hearts of those who grace its shores. This mesmerizing place possesses a natural beauty beyond words, and its legacy of triumph over war and devastation makes one appreciate its grandeur all the more Pearl Harbor Tours from Waikiki
Staying in Maui check out our Pearl Harbor Tours from Maui here
Staying in Kauai check out our Pearl Harbor Tours from Kauai here
Staying in Kona check out our Pearl Harbor Tours from Kona here