About Your Polynesian Cultural Center Super Ambassador Package
Every trip to Hawaii has to include a luau, so why not enjoy your luau at the #1 paid attraction on Oahu
The Polynesian Cultural Center prides itself on being an educationally relevant experience, as well as fun and enjoyable for the whole family! Spend the first half of your day exploring the seven villages of ancient Polynesia with your own personal tour guide, as well as on your own special canoe tour. Your family will learn so much about the culture of Polynesia, and take part in the activities, games, and traditions of the islands.
At your luau, you are traditionally greeted as a VIP! Choose from the Ali'i Luau Buffet and the Ambassador Dining Room and enjoy a feast fit for a king as you melt away in time to the harmonious songs and dance of Polynesian Islands.
Enjoy VIP seating for the HA: Breath of Life show, but not before your special pre-show backstage tour from your personal tour guide! HA is a breathtaking show that tells the story of Mana and his cherished son Lani. It is the Pacific Isles saga of birth and death, love and family, triumph and tragedy, and will punctuate the knowledge and experience you gained from the Polynesian Cultural Center.
Book this package well in advance as the Polynesian Cultural Center can only accommodate 32 guests per day at this elite level. You do not want to miss out on this VIP luau experience!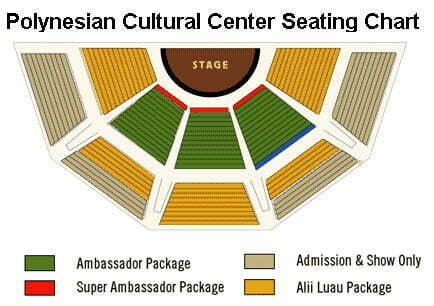 Polynesian Cultural Center Super Ambassador Package