About Your Pearl Harbor Oahu Adventure Package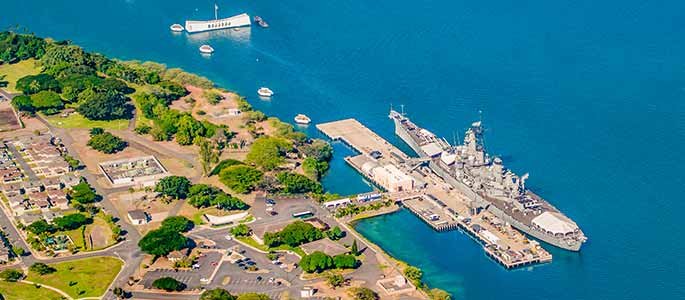 THE EXPERIENCE
Discover the enchanting world of Hawaii on an adventure through the island's best attractions. From authentic cultural experiences to unparalleled scenic views, there's so much to and see in this tropical wonderland.
Let Discover Hawaii Tours show you our island paradise on a journey that you'll never forget. Whether you're exploring the secret treasures and hidden gems of Oahu or basking in the sun on one of our pristine white sand beaches, this tour package is guaranteed to leave you satisfied
Embark on a journey with us as we explore all that Oahu has to offer. Experience the rich history of the Pacific on a tour of Pearl Harbor and Arizona Memorial. Enjoy the quintessential rhythm of island life while at the infamous North Shore of Oahu, where you'll stroll through quaint surfing towns and visit the world's first commercial pineapple plantation
Savor a unique taste of Hawaii and learn about the native culture while at the Big Kahuna Luau! From the captivating allure of lush emerald green valleys to the breathtaking 360° panoramic views of the island's coastal beauty, Discover Hawaii Tours is there to provide you with the very best at a great price.
WHAT YOU'LL GET
– Pearl Harbor & North Shore of Oahu Tour: With the Pearl Harbor and North Shore Combo tour, you'll visit Oahu's spectacular North Shore and Pearl Harbor's USS Arizona Memorial. Experience the beauty and history of the island on this tour, lunch included!
– Adventures of Hidden Hawaii Tour: Enjoy an adventure on Oahu that will highlight your trip to Hawaii. Hike, boogie board and snorkel at the top destinations!
– Luau – Premium Package: Come and immerse yourself into this world-class Luau at Hawaii's best kept secret estate.
– Koko Head Crater Sunrise Hike: Hike to the top of Koko Head Crater on Oahu, one of the island's most challenging hikes.
– Diamond Head Hike Tour: Considered one of the most iconic landmarks in the islands, no Hawaiian vacation is complete without a morning hike up Diamond Head Crater.
Pearl Harbor Oahu Adventure Package
OUR TOUR GUIDES: HAWAII'S AMBASSADORS OF ALOHA
Our unrivaled customer service comes from our hand selected professional tour guides. Each Ambassador of Aloha must demonstrate three core qualities:
Expertise of Hawaiian history
Friendly, Professional Attitude
Embodiment of the Aloha spirit
At Discover Hawaii Tours, our expert local guides are the key to an enjoyable experience. Chosen for their friendly "Aloha" spirit, each guide has an amazing grasp of all things Hawaiian–from Language to Island Trivia only a "local" would know. Recognizable by their bright red shirt, Discover Hawaii Tour's guides are eager to bring the spirit of the islands to your vacation through story telling and captivating tales.
Of course, safe driving is a hallmark of Discover Hawaii Tours and our Drivers are carefully chosen and trained in professionalism, courtesy, knowledge and discretion. They receive ongoing training to maintain our highly strict standards.
OUR FLEET
Discover Hawaii Tours adheres to the highest standards of vehicle quality and maintenance with exceptional service, featuring an immaculately clean fleet of luxurious and well-equipped vehicles. Reclining seats and powerful air-conditioning provide maximum comfort on all tours.
WITH US, YOU WILL DISCOVER IT ALL!