The Pearl Harbor Arizona Memorial and Honolulu City Tour
Spend a morning at the Pearl Harbor Visitor's Center and remember the sailors who lost their lives during the attacks on Pearl Harbor. Visit the site of the attacks with our expert tour guides, whose historic narration sets the stage for your Pearl Harbor Arizona Memorial and Honolulu City Tour
Experience the USS Arizona Memorial, one of Pearl Harbor's most emotional, memorable sites. At the Visitor Center, you'll have the opportunity to see authentic wartime artifacts, compelling museum displays, and contemplative open spaces designed with the country's fallen soldiers in mind.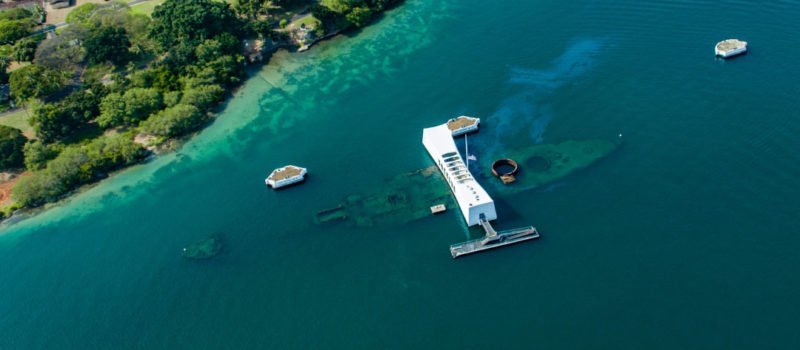 What you'll get
Discover the USS Arizona Memorial
Ride aboard a Naval vessel to the Arizona Memorial on Battleship Row
See the "black tears of the Arizona" (Iridescent oil, still trickling to the top of the harbor surface from the U.S.S. Arizona after 70 years!)
Visit the gift shop for books, souvenirs and WWII memorabilia.
Walk the grounds of the National Monument with informative displays
View battleship row, the U.S.S. Bowfin Submarine
See the Headquarters of the U.S.S. Pacific Fleet
Discover many Navy vessels that might include destroyers and carriers
What you'll do
This Pearl Harbor Arizona Memorial and Honolulu City Tour begins when we pick you up at your hotel or cruise ship departure point. While traveling to Pearl Harbor our expert guides will take you back in time with a historical recounting of the events leading up to the attack on Pearl Harbor.
Upon arrival at the Valor in the Pacific National Monument you'll have a chance to explore the museum filled with historical artifacts and documents that further set the stage of the attack on Pearl Harbor. You'll also see a historic film featuring archive footage of the actual attack!
You'll board an official United States Navy vessel for a ride across the bay to the site of the Arizona Memorial–suspended above the sunken battleship where 1,177 sailors gave the ultimate sacrifice for their country. You'll see Pearl Harbor from the same vantage as the sailors did that fateful morning and bear witness to the names of the fallen. Insightful and Unforgettable, this Pearl Harbor Arizona Memorial and Honolulu City Tour is a must for any trip to the islands.
Location: WWII Valor in the Pacific National Monument
Difficulty Level: Easy
Time Spent at Memorial: 2 hours approx.
Conditions
The 23 min. documentary of the attack might be emotional to some visitors
There is a 10-15 minute Navy boat ride over to the Memorial
Subject to close for stormy weather
NOTE: The memorial is a place of honor, inspiration, reflection, and quiet contemplation commemorating those who died during the attack of December 7, 1941. Visitors are asked to assist in maintaining an atmosphere of decorum and respect.
What to bring
Government Issued I.D.* Shirts & Footwear Required*, No Swim Wear*

No Purses or Bags* allowed in the park. Baggage storage is available for a nominal fee of $3 per bag at National Park entrance. Please do not leave valuables in the vehicles.
* Required by National Park
private hawaii volcano park tour
Pearl Harbor Arizona and Honolulu
Check out more tours on our partner site PearlHarborOahu.com