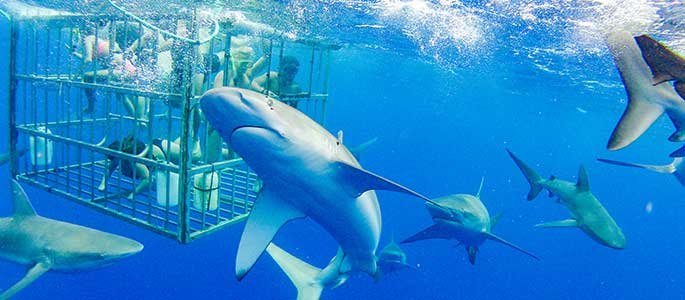 About Your North Shore Hawaii Shark Cage Encounter
The morning of your tour, your mind races with thoughts of what to expect. How close will the sharks be? Is it safe to be in a cage in the middle of the ocean, waiting for the sharks to come closer and closer?
Rest assured, this is a adventure you will remember for the rest of your life! Captivate friends and family as you describe jumping into an aluminum cage, sharks surrounding you in the deep blue Pacific Ocean 3 miles off shore. Ancient predators emerge from the ocean's depths to greet you face-to-face, their massive teeth and snouts barely scraping the cage walls. Your friends won't believe you when they hear your stories!
You'll feel the excitement starting to build as the crew does their final checks before pulling out of the Haleiwa Harbor, near Oahu's North Shore Beaches in Haleiwa Town. You can expect to see the Galapagos and Sandbar shark species along with Barracuda and schools of other fish. Although rare, a Tiger shark may pass by. You may also see green sea turtles and dolphins, as well as the possibility of spotting a whale during the winter months.
An opportunity to face these ocean predators is something you won't want to miss during your trip to Hawaii. Seats on the boat are going quickly, reserve your seats today!