About Your Chief Sielus Hawaiian Paradise Luau
Ticketing:
Lap Child: 0-2 (free) | Child: 3-12 | Youth: 13-20 | Adult: Over 21
Experience Oahu's brand new Chief Sielus Hawaiian Paradise Luau located at Sea Life Park, and featuring the always entertaining Chief Sielu. Famous for his appearances on The Oprah Winfrey Show and the Late Show with David Letterman, Chief Sielu has brought his luau to Oahu's South Shore.
Enjoy a scenic ride from the hustle and bustle of Waikiki and Honolulu, around the rocky cliffs that create the shoreline that stretches from Hanauma Bay to Makapu'u Lookout.
A delicious island feast awaits, and you will surely love the selection. Everything from Poi, a local favorite dating back to Ancient Hawaii, Kalua Pork fresh from the underground Imu, and Pineapple Cake are available during your buffet, and a cash bar is set up for your must-have Mai-Tai.
We hope you're ready for a laugh and one of the best shows on the island! Chief Sielu is not only a world-renowned fire-knife dancer and performer; he puts on one of Oahu's most popular shows. Throughout the night, become captivated by the exotic Hula Dancers, fire making, and spear throwing that the Chief and his crew demonstrate with expert precision. Get ready to laugh and take tons of pictures!
The Chief Sielus Hawaiian Paradise Luau performances are limited, and seats at the luau and show are highly requested. You certainly can't miss out on this fun-filled party. Be sure to book your Chief Sielus Hawaiian Paradise Luau today, and prepare for a night you will not forget during your Hawaiian vacation!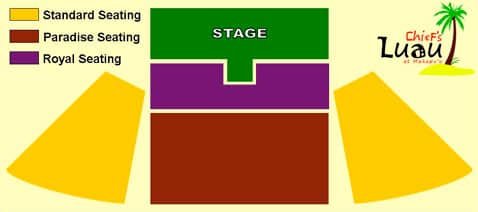 private hawaii volcano park tour
GRand Waikiki Circle Island Eco Adventure Tour Waikiki
We are expanding our Hawaii Tours to include more  Maui Tours like famous Maui luaus, snorkeling tours, ziplines, and more adventures over at www.mauiticketsforless.com