Diamond Head Crater Hawaii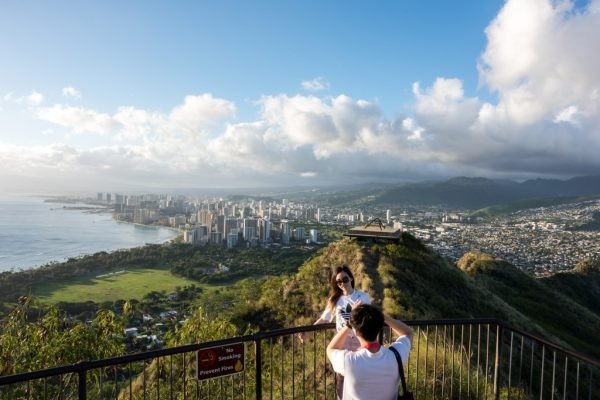 Diamond Head Crater is a distinctive volcano landmark located at the end of Waikiki Beach. The crater marks the edge of South Shore Oahu. In Hawaiian, the famous mountain is called Leahi, because it resembles the forehead (lae) of the tuna (ahi). Diamond Head Crater is a cinder cone volcano that erupted briefly during its early stages of existence.
History
British sailors mistook calcite crystals found here for Diamonds and called the mountain Diamond Head. Although Oahus Ko'olau Mountain Range is over 2.6 million years old, Diamond Head is estimated to be over 200,000 years old.
Facts & Trivia
Island: Oahu
Duration: Drive-by Only
Insider Tip: The hike up Diamond Head is relatively easy. Arrive at the base before sunrise and journey roughly 1 mile over uneven terrain, to the top for a sunrise that is picture perfect.
Fun Fact: Diamond Head was the focus of a game show in 1975, hosted by Bob Eubanks and offering contestants representing the 4 main Hawaiian Islands the chance to win money.
What to Expect: Diamond Head Crater lookout, from stunning ocean views and the interesting history of volcanic beginnings to an icon of Oahu.
Pop Culture: Diamond Head is also a song by the Beach Boys, found on their 1968 album Friends.